KRK is Out of Bigg Boss
Posted by: Richa in: ● October 24, 2009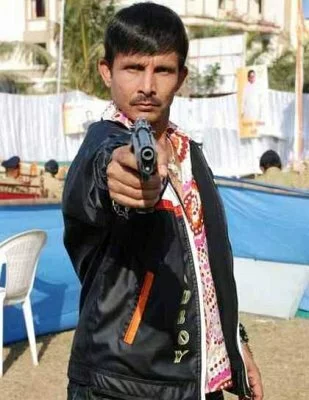 Kamal Rashid Khan, who calls himself KRK has been in the bad books of contestants from Day one of their stay in the Bigg Boss house. His big-mouth boasting of he being a millionaire has never been taken well by the contestants. To top it all, his volatile behavior and abusive words have hurt almost all in the house, so much so that he has been nominated for elimination in all the three weeks of stay in the house.
He lost his temper and hurled a water bottle at designer Rohit Verma, which accidentally ended up hitting actress Shamita Shetty. The actor also had a major tiff with television actor Bakhtiyaar Irani, and almost came to blows with comic Raju Shrivastav. The housemates, unable to cope with KRK anymore, requested to Bigg Boss that he leave the show.
According to sources, "A verbal fight that ensued between Kamal and Rohit took an ugly turn when KRK threw a bottle at Rohit. Rohit managed to dodge the bottle, which hit Shamita's hand. Everybody was shocked and Raju Shrivastav clearly told Kamal that his behaviour was unacceptable. This advice angered Kamal further and the argument deteriorated into a fistfight. Ismail Darbar immediately stepped in and played peacemaker before things turned uglier. Just when everyone was calming down, Bakhtiyaar Irani too gave Kamal a piece of his mind. By then, 'Bigg Boss' felt it was time he said something and asked everyone to assemble in the living room. He straight way ordered Kamal to pack his bags and leave the house. Any form of violence is not permissible in the house and since Kamal did not follow the rule, he is out,".
Channel sources confirms, "His behaviour was not at all acceptable. He always makes comments about some of the clothes the women were wearing.What Kamal did was completely out of line, and against the rules of the Bigg Boss house, and hence he was asked to leave the house."
Among others left in the house are, baby-faced muscleman Vindu Dara Singh seemed keen to be this season's Rahul Mahajan, by generally looking enthusiastic, and greeting everyone by their first names. Ismail Darbar kept walking around darkly, quietly as if deeply searching everything and everyone, Internet star Sherlyn Chopra, famous for her "I want to die in a bikini"made a big deal about untying her choli, almost plastering herself to the camera, Ex-Miss India and now glamorous reel mom Poonam Dhillon, Reality TV -find, comedian Raju Srivastav, TV actors and dancers Tanaz and Bakhtiyar Irani, flop starlet Shamita, better known as Shilpa Shetty's little sister, Salman Khan's German co-star from the long-forgotten Marigold Claudia Ciesla And finally Rohit Verma, called himself a "Hiroshima Nagasaki bomb" and asked the inmates of they wanted him to use the men's or the women's bedroom.
Last week proved to be lucky for KRK, as the occasion of Diwali stopped Bigg Boss from eliminating him. Will Bigg Boss give Kamal yet another chance? Or will the decision of Bigg Boss to send him out be the final call?
Now who is the next to leave Bigg Boss House????
GD Star Rating
a WordPress rating system
GD Star Rating
a WordPress rating system
KRK is Out of Bigg Boss