Are our Bollywood wives, being too supportive??
Posted by: Richa in: ● July 3, 2009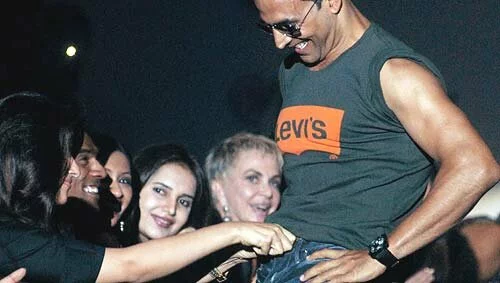 I guess Bollywood has completely sworn to walk onto the Hollywood path…
Yes I know, bollywood is far behind from the Hollywood in many aspects, Yet our Bollywood star wives are all set to leave behind the Hollywood big wiggies…
They are ready to do anything and everything to see their star hubbies on the top…
We have so many examples to count..
First and the foremost is Twinkle khanna!! Remember the unbuttoning act of Akshay Kumar?? This publicity earned Akshay a lot money.. But not only Akshay, even Twinkle received a lot of criticism for publically unbuttoning her husband!!
Another example is of the most sweetest couple of our Industry, Sussane- Hrithik Roshan..
Hrithik and papa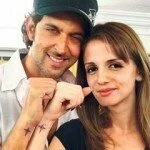 Rakesh Roshan are busy promoting their upcoming flick, "Kites"…. The Hrithik- Barbara affair is a part of this promotion… (A strategy that works amazingly sometimes for giving any movie a hype before its release.. Even their on-screen kiss has been given a lot of importance).. And the best part of this is that Sussane has been a support system and a partner in crime of this entire publicity gimmick…
Infact Shiney Ahuja's wife also came up for shiney's rescue after he was convicted in the rape case..
Few months back Arbaz Khan- Mallika Arora, came in the news for getting divorced… But later it proved to be publicity ka chakkar, which was for some product… And they had to face a lot of criticism from their fans for it….
I am sure there are more such instances… And why not?? Good or Bad, publicity is publicity!!! And when done for you husband, one does not require any other PRO..
GD Star Rating
a WordPress rating system
GD Star Rating
a WordPress rating system
Are our Bollywood wives, being too supportive??