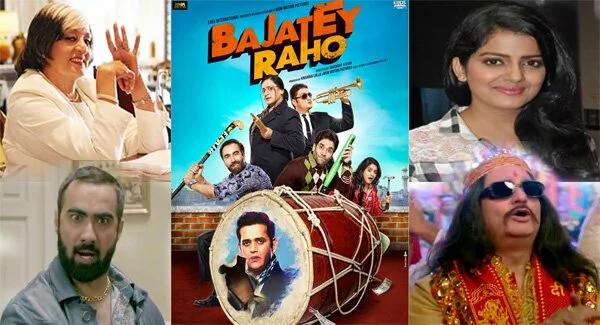 Bajatey Raho is a typical multiplex film that has been intelligently gathered to entertain you throughout its duration and lends you some minute lessons of Life. The film is not lengthy thus you are able you watch it with ease and leave the theater with a satisfactory screenplay. Runs with a slow pace pre intermission, it picks up post the break. Bajatey Raho, is a light film and gives you the moments to giggle but if you are expecting a laugh riot throughout, then Bajatey Raho is unlike your expectations.
The star cast is an accurate assemble of actors who are known for living their characters in every film. Vinay Pathak, Ranvir Shorey and Dolly Ahluwalia have worn the skins of their characters perfectly in the film. Tusshar Kapoor is also satisfactory as Sukhi and has done fairly well in the movie. The surprise to me in this film was Ravi Kishan. The bad man of the film, Ravi Kishan has been very affective as a greedy, cheat but enduring father. Vishakha Singh also done her part good.
Music of the film is average. Bajatey Raho is a film where every character is a hero.  All in all Bajatey Raho is a short, crisp and cute venture that can be seen in this weekend as no other important film has released with it. An ok film Bajatey Raho is definitely not a film to be kept in your collection.