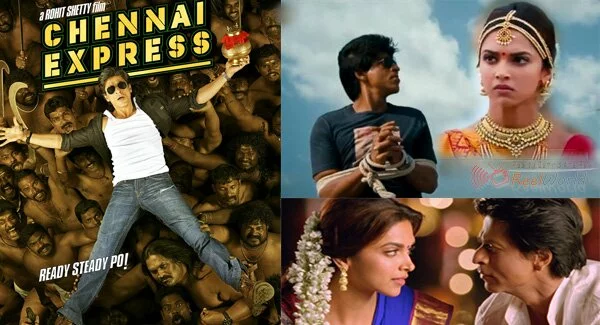 Rohit Shetty is a man who has been known for uniting comedy and action in his movies to give the audiences an engaging treat of almost 3 hours. Chennai Express is the example that takes Shetty's legacy forward. Made with just one goal of being a Box Office blockbuster, this express takes you on a ride that is joyous and fun filled, especially before the interval. As the movie begins it sets you on a roller coaster ride of some hilarious situations, good music, beautiful locations and a fairly good screenplay.
A typical commercial film, Chennai Express will make you witness Shahrukh Khan with a better comic timing. Deepika Padukone looks beautiful and has enacted a perfect south Indian dame with her funny accent. The film basically revolves around these two and stands by the single and simple plot throughout. No confusions and no two stories moving together unlike many of the recent movies! Other actors though have undertaken little scope in the film but have been fair to their job.
The problem only arises after the interval. When Chennai Express experiences some jerks. The screenplay has failed to run smooth post interval. Some scenes and the end fight sequence too seem a bit dragged. Shahrukh by the end comes in his usual avatar with his same old expressions. But inspite of this glitch the films picks up now and then and ends with this amazing, "Lungi Dance", a tribute to the king of South Indian Cinema, Rajnikanth by the Express.
All in all Chennai Express is a dhamaka film that will make your weekend high on top and moving. It is a must watch as Rohit Shetty and Shahrukh khan have teamed up to create a laugh riot and give us an entertainer. And trust me you are not going to miss Ajay Devgan at all.