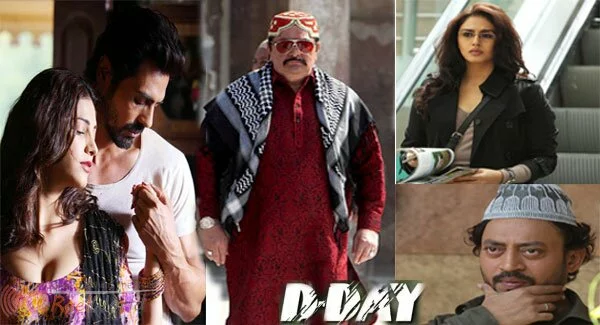 Nikhil Advani this time brings a completely new genre of Cinema (unlike his previous ones), for his audience in the form of D-Day. D-Day is a film that takes you to an emotional journey of love; Love for your Country and Love for the ones you do not want to lose anytime. But then sometimes you have to make the hard choices. D-Day is all about the sacrifices that one has to make in his life to choose over something that holds an equal importance for him.
D-Day deals with a very sensitive subject of Indo-Pak relationships, the Politics involved in the game plan, the underworld and the complications associated with all these things, but Advani shows his craftsmanship in dealing with all these carefully and in a sensitive manner. Nothing has been over done in the movie. No emotion, no action sequence, no dialogue, no song and no location looks made up and unnatural.
D-Day is a film that cannot be left without being talked about its music. Shanker –Ehsaan-Loy creates a magical extravaganza with their music. The Ghazal, "Ek ghadi or thehar ke ja, ki jaan baki hai…" is a superb collection of meaningful words. On the other hand the picturization of, "Alvida" will take u to the catastrophe of emotions; love, hatred and anger.
D- Day makes you sit glued to your seats and you would not want to miss even a single moment of the film. Performances in the film too rocks on the Big Screen.
The three leading ladies, Shurti Hasan, Huma Qureshi and Shriswara are at their best as the characters played by them. Rishi Kapoor as the underworld Mafia is good and resembles the man that must have been kept in mind while writing the character. Irrfan is amazing as always. Arjun Rampal justifies his character with that one expression that was actually a requirement of D-Day.
D-Day is the best example of a great idea, story, screenplay and even a greater execution. It persuades us to think where India is heading and where does it needs to be directed so that it becomes a better place to live in.