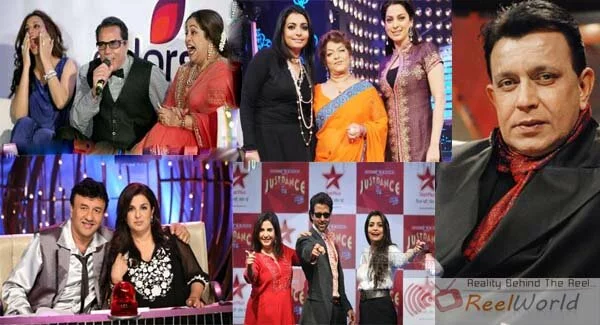 After a wide research of Indian Reality shows, a U.S. based channel has come up with 5 qualities in a person,to be a reality show judge… Though these 5 points have been kept under wraps and are marked highly confidential, but our sources, some how, managed to steal them and here are they….
1. The first and the foremost- Never be in concise with your co- judges.. The more you fight with the co- judges, the more the TRP will increase and the more will be the chances of you to get reapeted as a judge…
Example- Anu Malik! An "Indian Idol" judge from past four seasons and now a judge for "Entertainment Ke Liye Kuch Bhi Karega", on the same channel…
2. Always come up with a new idea for appreciating a contestant… Remember this new way of appreciation will be wholely and solely yours, and no other judge can use it, without your permission…
Example- (a) Whistle, (the louder, the more popular..)
(b) Teen Tali, (I personally did not like this concept of teen tali, don kno why Karishma Kapoor chose it?..)
(c) Jhappi, (I think Vaibhavi Merchant stole this jhappi idea from Munna Bhai..)
(d) Guldasta, (not a bouqet of flowers but a bouqet of marks, though it will be counted as 10 numbers only, but it will give your contestant a feeling of self satisfaction…)
You can also get the copywrite of some special words or phrases and repeat them after every performance, you have liked…
Example- "Jai Mata Di, lets Rock" or "Jhintukle Mintukle Tigh Tigh Tigh Tigh Tigh"… The more absurd the phase will be the more contestants and the audiences would like to listen to them…
[More…]
3. Compel your audience to reach at the pinnacle of sorrow. And when everybody attains the catastrophe, ease the ambience by saying something which will bring you in the category of the most sensitive judge, especially for the contestant…
Example- Remember Himesh Reshmiya saying to a contestant, " Mujhe tumhare ghar mei roti chahiye.."
4. Always criticise the audience for not voting for the deserving candidate… Quote yourself, "Mujhe janta ke iss faisle se bahut dukh hua.." ya phir just stand up from your seat and leave the set saying, "Mujhe lagta hai humare yahan hone ka koi matlab hi nahi hai.." Do not worry you can re-enter in the next episode…
I do not understand, if the judges are so much against the voting system then, why do they accept to be a judge in such a format???
And the last but not the least…
5. Self made shayaris can also help you to be a famous judge…
Example- "Tere gaane ne mujhe diya khumar bahut zyada.. tu zarur ayega top 5 mei yeh hai mera vaada…" (I know that was bad, but you can listen to even the worst in such shows, by whom?? hmmm…. Do I need to tell you??