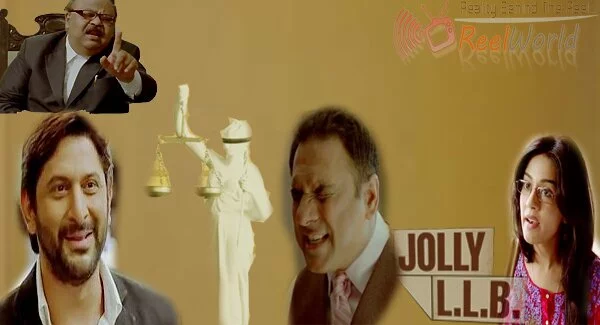 Jolly LLB talks about the evils of the society that do not allow the common man to live peacefully in this world. The high society, the corruption, money power, the image of the so called niche class, how hard these people try to maintain this image, and the struggle of a common man, the movie is a comment on all these aspects . As a part of every hindi film the main character has to struggle a big time in the world of injustice.  But as they say, 'a hero is a hero', and he comes up as a survivor, against all the odds, in the end. That's what happens in Jolly LLB.
Jolly LLB has not turned out to be too convincing. The actors have performed their parts very well. Saurabh Shukla's experience in the world of cinema has given the sharpness to his character of a session court judge.  Boman Irani too has played his character of a suave yet not so truthful lawyer very meticulously. Arshad Warsi has been good, but we expect much better from him. Amrita Rao has looked the same (moreover like a cute little doll) and has not got much to portray in the film.
The Plot of Jolly LLB demanded more crispness and subtlety that has been missed by the director somehow. Some scenes felt stretched out too much.  The one liners in the movie do attract the whistles and applauds of the audience but as a whole the screenplay lacks the factor that can make the audience watch it again.  Jolly LLB fails to keep the audience thinking. It is a one time watch and would make you feel the pettiness of our society and system. It will make you hate them too but somehow the message has been not conveyed strongly via the movie.
It was a good subject but the objective has been lost somewhere in Jolly LLB. But I would definitely suggest you to go watch it atleast once to find out the errors in the society. May be we can get the benefit!