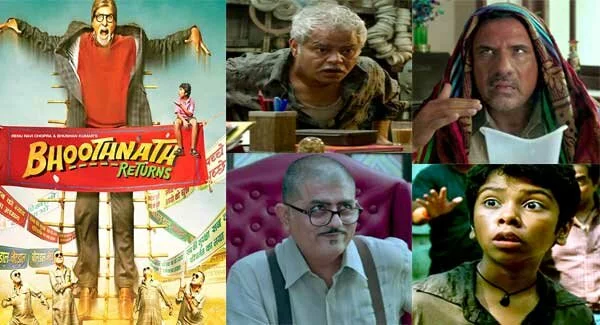 *Gareeb ko kisi se darr nahi lagta*, similar lines which would blow away your head with laughter and at the same time with a deep insight, Bhoothnath Returns have come at the right time this year when voting and elections are a relevant part of the country. Bhooth Returns this time deals with a more serious issue of country, corruption, Politics and our voting system. The movie is a mix of a good and lethargic screenplay. it has great moments when you will feel like a proud Indian but post interval you will dragged at places. The the lazy screenplay can be excused firmly because the film all over is an effort of some great performances and good writing (before interval).
Boman Irani once again becomes an interesting villain who evokes hatred and laughter too. Sanjay Mishra (of whom I have become a big fan after AAnkhon Dekhi), has a small part to play but when he comes on the screen he is amazing. The little hero of the film, Parth has also an attraction of the film. A genuine actor he leads his character with confidence and grandeur in the film. Last but not the least Amitabh Bachchan, has played the perfect Bhoothnath who is not only a good spirit but is inclined towards helping the society and the country.
Bhoothnath Returns gives you a platform to brood over the political scenario around us, though the thought has not been presented in a very heart touching manner. I feel the ending has been a little abrupt and the screenplay looses the tempo. It could have been more catastrophic.