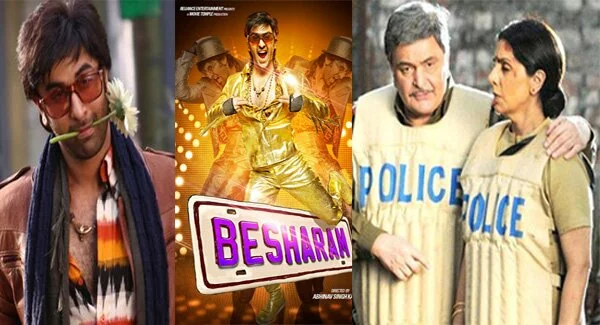 Besharam is definitetly an over rated film amidst all the hype, attention and the father-mother-son trio. A film that has no logic and no story, a multiplex film Besharam is an unimportant film which will not be able to make a mark of its own at the Box office. Released on Gandhi jayanti, the title suggests an oxymoron but the makers have tried to show Gandhism through some dialogues and the character of Babli. But the movie has dramatically failed to arouse any goody goody feeling inside the audience.
The new actress Pallavi Sharda was a disappointment for me. She has tried hard to act well but there is something about her that is unnatural and overdone. The chemistry between her and the Besharam, Ranbir Kapoor has also not worked out on the screen. She looks a misfit in the movie.
Ranbir has acted well as the main lead. Ranbir is one actor who can carry on any character beautifully. He can be an intense lover, can be Barfi and can be Besharam too. If you have forgotten his towel dance from the film Sawariyaan , better be prepared for his bathing scene in the film.
The major attractions of the film are Neetu Singh and Rishi Kapoor who have played Chulbul and Bulbul Chautala, husband and wife both serving the Police force. The scenes have come funny and both of them squeeze away all the attention of the audience on them rather it being on the main leads, Ranbir and Pallavi that is. They have been fantastic.  Javed Jaffrey in a negative role has been effective.
Music might hit the charts for the time being but do not carry the factor that might linger on with you for long. All in all Besharam did not tickle my senses.  The screenplay is lose, not effective and the message of the film has been conveyed in a much better way by Ranbir Kapoor on all the reality shows he has gone to promote the film. The film merely a time pass and below expectation.