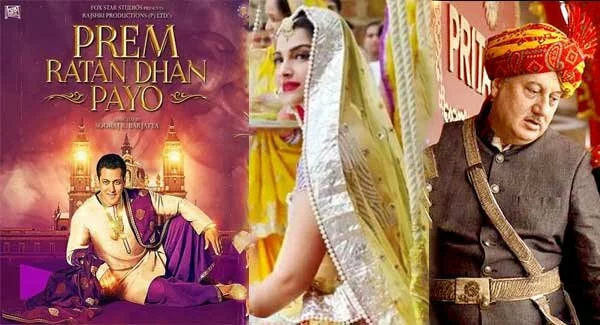 Barjatya's cinema has always been hyped with pomp and show. Sooraj Barjatya has established a trail for himself. The trail is embellished with family drama, naive love, sincerity of the elder son of family, songs within a short time frame, loyalty of an old acquaintance who is no less than a family member, so on and so forth. "Prem Ratan Dhan Payo" is a round about of all these ingredients, tried to be served in a new platter. But Rajshree has failed terribly this time with the unwoven screenplay.
Sooraj Barjatya has always established a connection between all his characters and the audience. But this time he has not done it successfully. Every character seems loosely knitted in the story. No logic, no connection, no sympathy and of course no empathy.
The story is predictable, the performances are mediocre. The film has a long list of actors- Salman Khan, Sonam Kapoor, Anupam Kher, Neil Nitin Mukesh, Armaan Kohli but none impress to the level that was expected. Not even a single incident in the film is memorable except one or two songs.
More over I missed Mohnish Behl and Aloknath in the film ( their association with Rajshree has been tremendous).
The story fails to maintain a steady track and is dragged aimlessly. A lot of money has been spent on the costumes and sets but none leaves a long lasting impact on the viewers mind.
There is no solid reason why one would watch PRDP, except its a Rajshree production and we have our Prem in it. But after the watch one would remember the older films by Sooraj Barjatya and would want to forget this one.
All the hype that has surrounded PRDP will appear more of fizz to you with only a little substance that can actually be taken inside the body.
"Prem Ratan Dhan Payo" is a miss for me.