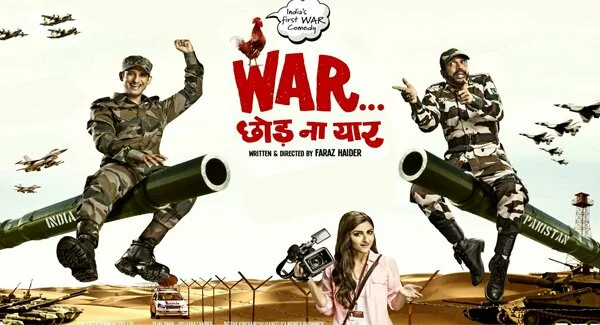 War Chhod na Yaar marks the beginning of a completely new genre in the hindi films and that is of the "War Comedy Film". The film is a spoof on the World Politics and the biggest problem of India and Pakistan i.e. WAR. The film states very clearly that who actually wants war? None but those who are sitting untouched and unaffected with these wars, holding tight onto the Powers in their hands.
Sharman Joshi, javed Jaffery, Soha Ali Khan, Dilip Tahil and Mukul Dev in a short but interesting character. All of them have played their parts with full conviction and in a light hearted manner which goes exactly what the script demanded. The only problem that I feel our Hindi Cinema has been suffering badly with, and War Chhod Na Yaar is no exception is the way we portray our female journalists on screen. Rut Dutta (soha Ali Khan), is also one of those hypothetical journalists who give a feeling of artificiality and unnaturalness.
The beginning and the end are nice. The middle portion is a bit lousy especially before the interval. Post the interval the theatre gets a chance to laugh.
War Chhod Na yaar is showcases an important message for the world but the screenplay should had been more tight and crisp. Some sequences are really nice and gives a chance to admire the first time director, Faraz Haider. The film has a hard hitting message but only if people are able to take it away home. And I hope they do!