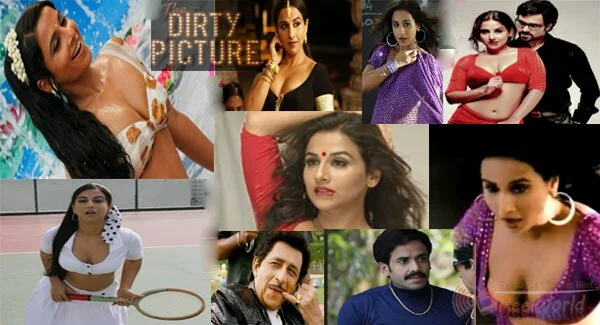 It has always been very difficult for me to admire Ekta Kapoor for her senseless small screen dramas. And I never thought that I would be praising her for anything in my blog. But, "The Dirty Picture" proves me wrong! Who says that cheap one liners and selling sex on Big screen leads to vulgarity and Dirt? Vidya Balan as "Silk", in spite of being played the role with full conviction and justice does not leave you with an "ohhh la la ohh la la" feeling, but you come out of the theatre applauding her performance and the movie.  And not only Silk but each character of the movie, has appeared appropriate and human. Naseerruddin Shah, Tusshar, Imran Hashmi, everyone has been successfully marked their presence in the film.
The Dirty Picture has revealed the darker side of the Entertainment Industry in a very subtle and quiet manner. The Dirty Picture showcases the fact that Bollywood has always been a male dominated planet. But the Heroism that exists on as well as off the screen is an entity of very few hearts, and Silk (Vidya Balan) is a symbol of this Heroism.
The movie does not have a single loop hole and that's the reason why the audiences do not get the time to blink their eyes for even a second. The scene where Silk sees herself as Reshma in every mirror she comes across and finally as Silk in a small pit filled with muddy, dirty water, might leave you thinking, that who am I and what have I become!! Even if you do not acquire any message (you might not as there are no two pages long monologues pronounced by the characters, as can be heard and seen in many of our hindi films), from the movie you can watch it for pure..
ENTERTAINMENT, ENTERTAINMENT, ENTERTAINMENT!!!
A must watch, this has come into my list of favorite movies. And if you have not yet got the pleasure of watching The Dirty Picture yet, plan it out asap.