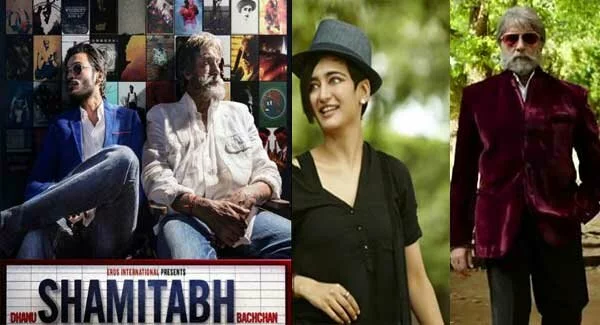 R Balki is one of those directors who have made a mark in turning offbeat scripts into lovable films. Shamitabh was a long awaited work of art, but unexpected lesser number of audience came upto me as a surprise. Shamitabh is a gift, for movie lovers, wrapped in glittery paper. Balki is known for different stories and different cinema- but this time he seems a little over confident. Shamitabh seems an over stretched script at times, which gives you the feeling of boredom and uneasiness periodically. A crisp and not so lengthier screenplay could have created wonders with Shamitabh. Especially the beginning makes you wonder when will Amitabh come? And when he comes you tighten your seat belts. After that it's a fun ride.
As far as the performances are concerned, Akshara Hasan seems promising but she has to work a lot harder to step her foot firm as an actor. Dhanush is a natural actor- his intensity as an actor takes over his, not so great face and not so great body. But the one who steals the show is ofcourse Amitabh Bachchan. An actor with a vision- Big B imbibes the soul, heart, skin and every possible thing of the character in Shamitabh. A marvel in himself- Amitabh is a true actor in every sense.
Shamitabh is definitely a treat to watch in theater. Dhanush- Amitabh Jodi brings in a newness to the big screen.