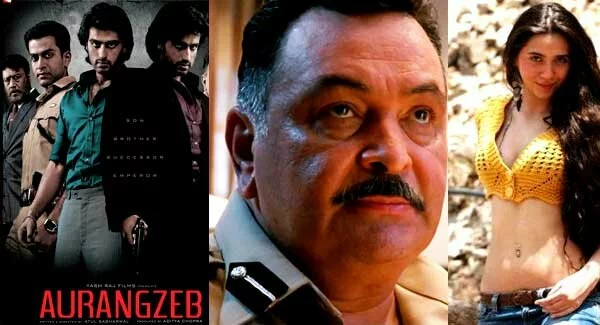 Aurangzeb is a hunger. A hunger for Power, hunger for money, hunger for name, fame and the hunger for love. And how these hungers linger on, no matter how hard you try to satisfy them. A very intelligently chosen title, "Aurangzeb", gives you an impression that you are going to witness a witty, comprehensive and a drama packed screenplay in the theatre, but to your disappointment you get a bounce back because you expect a lot from a YashRaj Cinema. Yet there are few scenes that will make you jump over your seats.
Aurangzeb is a complicated script that has too many plots, sub plots and characters. Arjun Kapoor holds onto that same expression throughout the movie that has been glued on his face since his first release. But he is not that bad too. Sasha Agha has been a complete waste in the movie. Prithvi, Tanvi Azmi, Anupam Kher, Deepti Naval, Jackie Shroff, Amrita Singh and Rishi Kapoor , phew, Aurangzeb appears as a pot full of water but actually has few droplets here and there that might not want you to leave the hall. All in all it could have been a much better venture. Even the music does not touch your soul.
The back ground score of the movie is good. A onetime watch in the theatre you would not feel bored or dragged. Aurangzeb is an intertwined story that has many layers to it. But the film has a purpose and sets a message for its audience that has been not presented with half page long dialogues, which is a good thing. How Politics, Corporate and Corruption are taking over the mankind and how urgent there is a need to come out of this vicious circle is what the movie conveys.
A fairly good film.  Aurangzeb was a change from last weeks's , "Gippi".