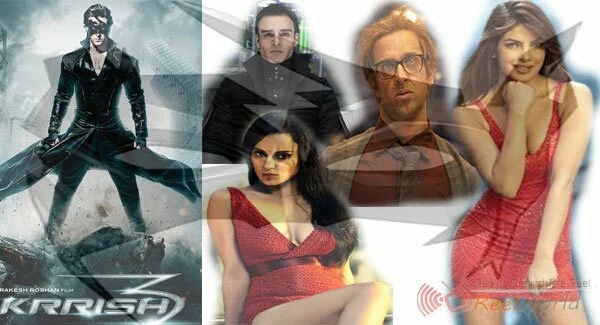 Rakesh Roshan has given a fairly good cinema to the Box Office. The most famous of them all is of-course the trilogy- 'Koi Mil Gaya', 'Krrish' and the recently released, 'Krrish3'. An extravaganza and treat for those who like to see super heroes flying up high, jumping off from the skyscrapers and because this is Bollywood so how can we forget mentioning super heroes, singing and dancing around with their beloved. Krrish 3 is not an exception. It has all the masalas and tadkas that the audiences have been waiting for.
Hrithik Roshan as Rohit and Krrish, is undoubtedly a winner in the film. The two characters that he has played are remarkably different from each other and from Hrithik too. He has been fair enough to portray the old and the young versions respectively. Priyanka Chopra has been good in whatever she has got to do in the film. But as I have previously stated, any actress given the role of a journalist/reporter in a hindi film looks too artificial and unfit. Same has been the case with Ms. Chopra. Kangana Ranaut has done fairly well with the weird character of Kaya. Vivek Oberoi has been a real surprise as a cruel, crude, heartless and a completely negative character in the film. He portrays Karl with full conviction and leaves an impression of a dangerous man for whim no audience feels pity.
Apart from the performances I did not like anything about Krrish 3. Rakesh Roshan has completely failed to hit the nail this time. As a super Hero Krrish3, supposedly a film for children is filled with emotions that are full of anger, violence, absurd scenes and things that a child might not like to watch. Roshans have opted to make a science fiction this time, but it has turned out to be a violent experience. I doubt if children will enjoy their super hero this time! I personally think that Krrish3 is a huge disaster on the Big Screen.
I would call it an absolute trash and an attempt that baseless and completely useless.