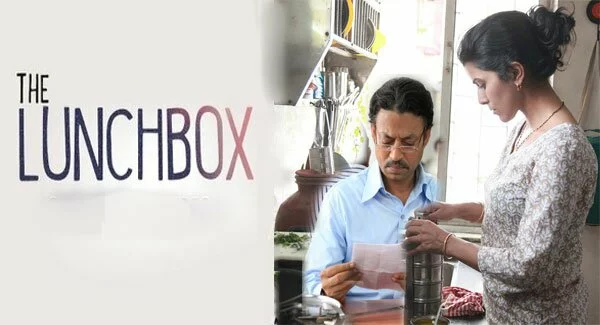 Well how do I start it? Lunch Box  sets an example for the Cinema Industry that how a simple, cute, lovable, no-nonsense dialogues, no songs and running around trees along with no big soooper starts can give the audiences an experience which they are bound to carry even after they leave the theater.  At-least I am not able to come out of the simplicity of the film even after so many hours. Everything about the film was so Natural and beautiful that you just do not want to get it over.
Lunch Box will take you in a world that is so true yet is like a fairy tale. Irrfan, Nimrat Kaur, Nawazzuddin Sddiqui, every actor has acted precisely what the characters demanded out of them.  The pace of the movie is a bit slow but no regrets because each and every moment in the film will give you a tickle in the stomach and by the time it will end you will be in love with the screenplay, the actors, the story and the makers of the film.
The correlation between the situations of the characters via letters has been showcased amazingly. The undone eyebrows of a simple housewife, a husband who is out of his marriage may be because his wife is not as beautiful as his lover, the loneliness of a middle aged man, the frustration of a woman who has been struggling for the necessities of life along with his ailing husband and has her only son dead, a small girl who is trying to figure out throughout the movie as to actually what is happening in her home, the local trains, the DABBAWALAS and a helpful neighbor whom we can only hear and not see (played by BHARTI Achrekar), all these things do exist where we live.
Personally my favorite scenes are; one where Illa is waiting for Saajan and without her knowledge and getting noticed, Saajan is just observing her. Another one is when Saajan in the train realizes that what is being old actually all about and that he is not that old also. These two scenes have been conceived, captured and enacted beautifully.
All in all Lunch Box is a must watch for everyone who believe in love! And as they say, "food is the only way to get to one's heart".