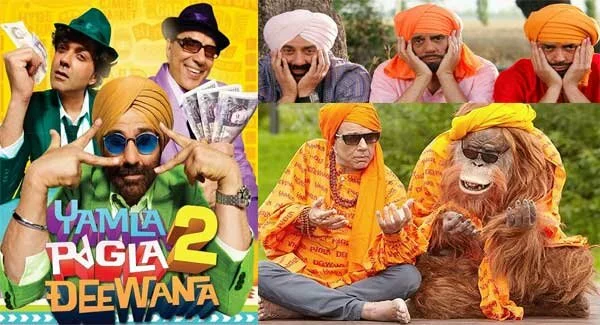 Yamla Pagla Deewana 2, witnesses the trio of the sons and the father and has the capability to make the freaked out audience go gaga over their not so cool jokes and some heavy duty action sequences. And as expected the film has been made to entice the masses and if you believe that you are a follower of this niche class of audience then this is definitely not for you. Sangeeth Sivan(Director), notches the nerves of the audience so that they have a good time smiling. A chaotic sequence of illogical scenes is what Yamla Pagla Deewana is all about. Though it is not a laugh riot but it will give few reasons to smile.
The cast is a perfect collection of actors who portray the 'madness' of weird characters that they are given to play. The three Deols have been the centre of attraction throughout the movie. It has always been a treat to watch Johnny Lever on screen but this movie does not offer anything fantastic for him. Anupam Kher plays this hanky panky villain with full conviction. He is one of the actors whose presence and performance can give any role the strength and firmness, it lacks on paper. Neha Sharma and Kristina Akheeva have looked beautiful. And a special mention to the monkey, Happy Singh.
Technically the film has nothing to talk about accept the unbelievable fight sequences, but when you are going to watch a Sunny Deol movie, these fights are much expected. The screenplay too has nothing much to say. Though it does not drag but is a little slow at times. The ending has been really abrupt and you never come to know how the characters resolve the confusion amongst themselves and the secret of painting of the monkey remains a secret throughout. Yamla has come up exactly as what was expected from it.
The basic theme of the movie is the winning of good over bad and truth over lies. The nuisance we humans have created and how better we were as monkeys is one hidden meaning that the film showcases.
A onetime watch you can go to watch it if you are a fan of Deol Trio or have a free Sunday. It is an average film according to me but has all the creative licenses that are required to hit the Box Office commercially.