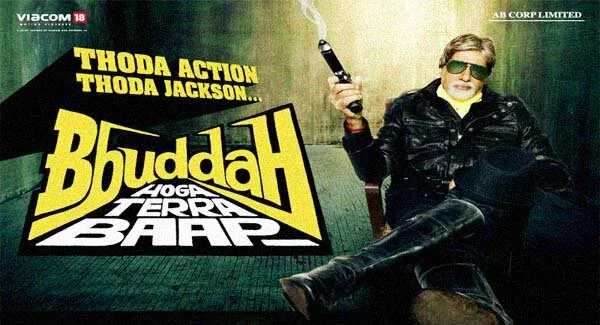 He's back and he's angry. Call him Tiger or Don or Mard or Toofan or The Great Gambler or Shahenshah or even Laawaris. But don't anyone dare call him a Bbuddah. Yes, Amitabh Bachchan, the angry young man of the 70s and 80s, returns to his fold in his home production Bbuddah – Hoga Terra Baap.
Puri Jagannadh has successfully made many films in Telugu applying the same formula. This is just another subject in the lines of Pokiri with an old man leading the show. When a 65 year old man does Pokiri what it looks like is Buddha for you.
Although the storyline is wafer thin Puri did manage to pull off few twists successfully and kept the audience engaged all the time. But the real man for this film is none other than Mr. Big B. He is the life and soul of this film. He carried off his role with élan. Amitabh fans will completely fall in love with this film and watch it again and again as they get their matinee idol doing all the nakhras from the good olden days.
First half of the film is passable without any story. Some scenes look ridiculous but the purpose behind those scenes is revealed in the second half. The real gist of the story lies in the second half and it is where the director excelled. There are some funny scenes, good one liners and also some sentiment. Amitabh, Prakash Raj conversation in the climax is fun to watch.
Puri Jagannadh has used popular dialogs and few scenes from his Telugu films. Telugu audience may not find them fresh but Bollywood audience will thoroughly enjoy those scenes and dialogs. On a whole Buddha is a paisa vasool entertainer which is mainly targeted at Big B fans and masses.
Amitabh Bachchan is a treat to watch. Right from the scene in which he enters clad in a white dress and a yellow muffler to the scene where he exits as Hema Malini utters 'Bbuddah Hoga Tera Baap', Big B stole the show. He has excelled in every scene. It is a one man show all the way. One liners written for his character are hilarious.
Hema Malini is still the dream girl. She did a neat job. Raveena is over the top. Sonu Sood is confident. He did a splendid job in the scenes which he confronts Amitabh. No one except Prakash Raj can make such an ordinary character look strong on screen. Sonal Chauhan is cute. Charmi scores few brownie points. She has some light moments which will have you in splits. Subba Raju did a very good job. Rajeev Mehta and Shahwar Ali are fine.
Bbuddah Hoga Tera Baap Review rating: 3.25/5