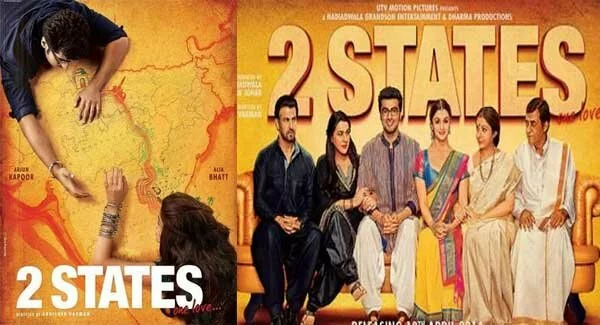 It's not about 2 states- it's about 2 cities, 2 families and 2 people. It's not about love- it's about 2 egos. *2 states* is all about the complexities related to the term *want to marry*. Well India is a country of diversified cultures but the dissimilarities of these cultures make it too difficult for two people to unite smoothly. Though love marriages have become a common scenario yet the families face difficulties in accepting that their children are getting married in an unknown culture.
A book by the very renowned Chetan Bhagat 2 States have been made to showcase the tussle between different cultures (North and South in this case). The movie showcases the loudness of the Punjabi culture and the subtle soberness of a South Indian family in a quite impressive way. Alia Bhatt, Arjun Kapoor, Amrita Singh, Revathy, Ronit Roy- everyone has done it with full intensity and they justify the characters. A simple screenplay has been made in a simple manner without any unnecessary drama.
2 states is a film that will give you some great moments to cherish.  It is definitely not an excellent film but has been successful in targeting a wide range of audience. It does not make you feel lame at any point of time.
Families do hold an important place in a blissful marriage. And to put away your differences and egos is what that might help a marriage to be successful, that's what 2 States is all about.