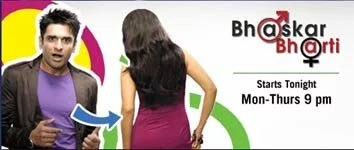 "Badal rahe hai aap, badal rahe hai hum", thats the new tag line for an entirely new Sony Entertainment Television, as it has launched five new programmes from 25th May, in order to paresent itself in a new showcase…
When there is a tough competitions, with so many channels in your hands.. Sony has come up with a new trail of serials…
The first in this series is "Chittorh ki Rani- Padmini", a chronical extraveganza, with a huge money value associated with it… If the serial bangs, producers are going to face a burden on their pockets…
The second followed by Rani- Padmini is, "Palumpur Express", the story of a girl, who aspires to win an Olympic medal for his country… Well I did not find the serial very attractive…
Remember, "Yeh meri Life Hai", (an old serial on Sony).. The protogonist of that show aspired to be a film director, but unfortunetly the serial ended with a saas-bahu type family drama….
Another serial is "Bhaskar Bharti". Though the promos of the show were enough to tell the plot of the show… It is a copy from a box office disaster called, "Mr. ya Miss", featuring Antara Mali.. And she acted so pathetically in the movie, that even her mentor Ram Gopal Verma, stopped casting her in his films…
In "Bhaskar Bharti", Ejaz Khan plays the main lead, who one morning turns into a woman, (Ragini Khanna- Radha ki Betiyan Kuch Kar Dikhayengi fame)…. I saw yesterdays's episode and Ragini looked promising, (atleast much better than Antara Mali)…
Next is a women's oriented emotional series called, "Ladies Special"… Story of 4 women.. The series has survival of the fittest sort of a theme, in a city like Mumbai… Women are going to like the show more….
This is followed by, Anu Malik and Farah Khan duo (as judges), no not for Indian Idol, but  "Entertainment Ke liye Kuch Bhi Karega".... The series seems to be inspired by, America's Got Talent…. The most starngest things done by the contestants will make them evolve as winners….
And then there is, "Dus Ka Dum", hosted by Salman Khan... The most eagerly awaited show on Sony…
Besides these new ones, the oldies like, CID and Boogie Woogie, are still going to be the part of Sony…
Lets see how well the new face of Sony is accepted by the viewers…