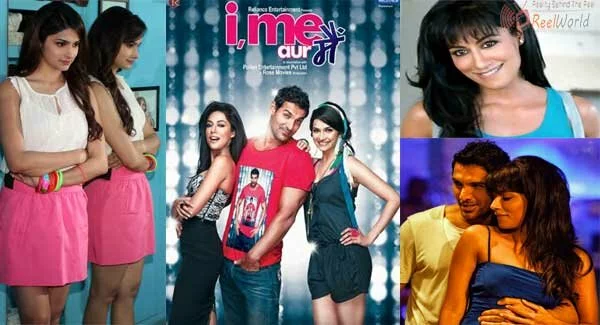 John Abraham, Chitrangda Singh, and Prachi Desai's trio had hit the Big screen today, (1st March'13). "I Me Aur Main", Directed by Kapil Sharma, has showcased the present day scenario that today's generation is facing prominently. The desire for success, money, power, career, love and freedom, they want everything; right there, all with the perfect finesse.
The screenplay of the movie definitely did not demand, superlative performances by anyone, but did need pomp and show that is an in thing with the generation. Whether it is the sexy yet the suave character of John, Chitrangda's niche portray of a fairly successful woman, Prachi's  the girl next door look , Raima Sen's high Society oomph factor; every character has been justified in the movie.
The plot revolves around the ups and downs of the Love Life, the phobia of being committed and the Male- female war at the official front. Technically I, Me Aur Main had lost out on many things, especially the song, towards the end, fails drastically to establish the feelings of the characters and thus the catastrophe has been missed out completely. The music does not score too high on the charts except the last, "Na jaane kahan se aya hai…"  (The male version of SriDevi's famous Chalbaaz Song).
The movie till the end keeps you confused about, who will get the "highly obsessive" (obsessed with himself), John Abraham but this mystery is not enough for the audience to watch the movie again and again. The best part about I Me Aur Main is its length. Keeping it short the director has, to some extent, saved it from being Boring. No bombastic dialogues and no lengthy scenes have contributed in making "I, me Aur Main", a perfect Multiplex movie.