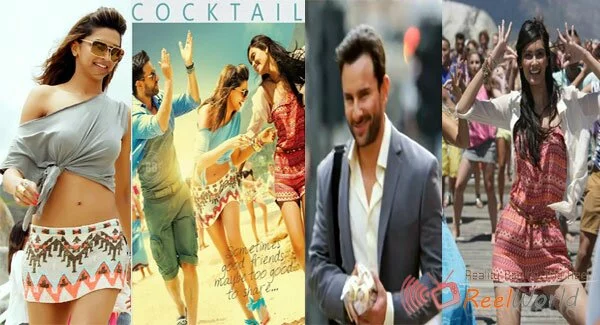 A light-hearted realistic Romantic flick, "Cocktail" is of-course not an amazing tale of love but is definitely a canvas that paints the present scenario of Love. Live-ins, Partying, Booze and a lot of masti, is what "Cocktail" is all about. And there goes a well knit Love Triangle.
I personally never liked Deepika Padukone much, but her Cocktail's gray shaded character has definitely altered my opinion. Deepika as Veronica, is this "rich bitch" (not exactly a B I T C H), who has always spent a chilled out life, all alone. Coming from a broken family she realizes the importance of togetherness and love when she meets Gautam (Saif).
The addition to the film Industry Diana Penty (Meera) seems promising, with a lot of scope for improvement on the cards. As a typical Indian girl, Penty leaves a soothing impact on the audiences.
Saif Ali Khan, super sexy and  hot a s always, plays Gautam, a flirt, who is afraid of the 'C' word (commitment). He wants to have a simple and cool life, till he falls in love with Meera.
The story does not seems to be new for the viewers but the treatment makes it worth watching. The screenplay has a subtle humor that will make you come out of the theatre smiling, with a full "paisa vasool" satisfaction.
Imtiaz Ali is a sensible writer who has always examined the different angles of love in his movies. "Cocktail" leaves the similar mark which is peculiar of Imtiaz.
Boman Irani and Dimple Kapadia play justice to their respective small roles. The best thing about "Cocktail" is that it does not bore the audiences and does not stretch at any point, throughout.
"Cocktail" is a must watch of every Hindi Movie Lover.