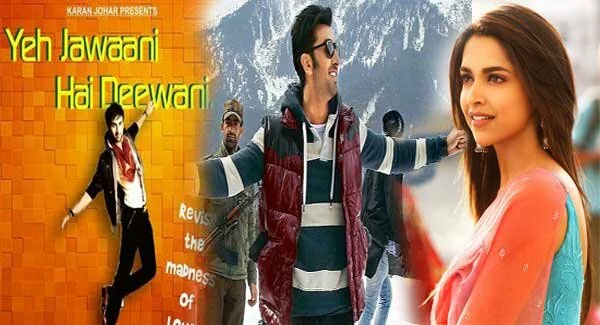 This time Deepika Padukone and Ranbir Kapoor have teamed for Karan Johar, to make the audience witness a youthful extravaganza, "Yeh Jawaani Hai Deewani". And as most of the times it is expected out of a young and a mad film- this movie will also make you smile, cry, set free and live. And these two past lovers have managed to survive their chemistry in the film which was also visible during their promotional activities. Directed by Ayan Mukherjee, Yeh Jawaani Hai Deewani is a call for youngsters who either are or want to chase their dreams.
Ranbir Kapoor is a cup cake for all. Born to act, he sets the screen on fire. Deepika Padukone is sensual, beautiful and of course knows to make her presence felt amongst the other actors. Kalki, Aditya and Kunaal Roy Kapur have also done justice to their roles. Though Aditya Roy Kapur seems the same as in Ashique2. Frooq Sheikh, Tanvi Azmi have also played their short and sweet parts with full conviction. An I just cannot forget to mention the Diva Madhuri Dixit in the song 'Ghaghra'. A wonderful personality on screen Madhuri has the charm that shines bright for everyone.
The story is an old Pizza served in a new box. But who cares? The presentation will not make you regret the old Pizza. A very predictable screenplay takes you in a Dreamland, where the youth wants to be. Amazing locations, good music and a 'Batameez' story of friendship and love, that is all the audience wishes to witness throughout the movie.
All in all the film has been made to woe the youth. People would want to watch it for Ranbir and Deepika which is a valid reason obviously. The film successfully manages to create an aura which is not very close to reality but the generation would want to live it. Yeh Jawaani Hai Dewaani, gives you a parachute to fly. A thoroughly enjoyable movie it gives you a happy ending with a smile on your face.