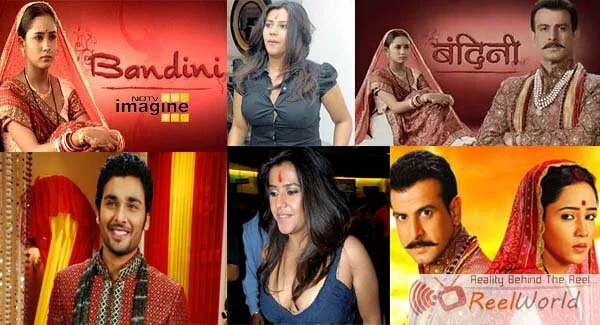 Have you seen Ekta Kapoor's, "Bandini", of late?? If not you, then somebody must have, may be your mother or sister?? Ok! I confess I do watch Ekta Kapoor, sometimes…
Not 'coz I like watching her serials, but 'coz somebody, (don ask me who?), at my place watches Bandini regularly, (inspite of the IPL series)….
Anyways the point I want to raise is that, the serial is creating a little bit of confusion in my mind… Yup telling you how?? (It would be easier for you to understand, if you watch it regularly..)
The main lead of the serial, "Bandini", Dharmaraj Mahiyavanshi (Ronit Roy), is married to Santu, (Aasiya Kazi),… Dharmaraj Mahiyavanshi has four children from his first wife… And Santu is actually a bit younger than the eldest son of Dharmaraj, who is Hiten Dharmaraj Mahiyavanshi, (Mrunal Jain)..
Santu has two more sisters, who live with their nana ji in the village… Some circumstances have led Hiten, the eldest son of Dharmaraj, to live with this family of Santu, i.e. nanaji and the two sisters…
Now if we go by the relationship tree, Dharmaraj is the father of Hiten, and because Santu is Dharmaraj's second wife, she has to be Hiten's mother, according to the relationship tree, (so what if Santu is younger from Hiten?)…
Santu's elder sister is Khemi, played by Leena Jumani, (forget about the younger one, she is not important right now!).. Thus, going by the tree, Khemi, (Santu's sister), would have to be Hiten's masi...
But Ekta Kapoor's serial "Bandini", has a twist!! The story is leading towards a love angle, which is between Hiten and Khemi, (who is supposed to be Hiten's masi)…
Did you get what I am trying to say?? The word MASI, itself means Ma+SI, yani ki MA jaisi… Then how can Hiten and Khemi fall in love with eachother?????
Well this is Ekta Kapoor's serial… Yahan kuch bhi ho sakta hai!!! Remember Kyunki's title track, "Rishton Ke Bhi Roop Badalte Hai… Naye Naye Sache Mein Dhalte Hai…."