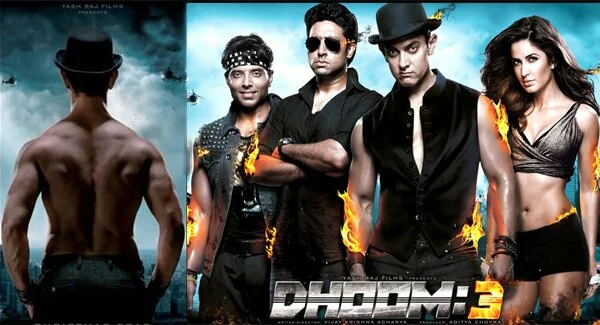 Super Bikes, super chase and not so super story. For all the Dhoom series fan, Dhoom 3 has hit the screens. But let me tell you that when you plan to watch the movie consider leaving the mind back at home. Because some logics do not have logics! The beginning of the film is very patchy and slow. Aamir's introduction makes you sit upright for a while. Especially his tap dance sequence announces Amir – a pure perfectionist yet again. But to my surprise later in the film you feel irritated with his *angry young man* expressions, many times.  Katrina has been a dancing doll in the movie. *kamli* sets the ball rolling for this pretty lady in the film but she does'nt get to do much except flaunting her body, some dances (and they are good) and a lip lock with the Aamir Khan. Abhishek's and Uday's entry has been tried to be created as funny as possible (for me it failed). Uday's few lines evoke laughter in the theater, but who wants to see Abhishek and Uday when the movie has Aamir Khan in it.
Dhoom3 has failed to build up the excitement, power and force that an Aamir Khan movie should carry. Intermission is the only point that brings a twist in the screenplay and you want to watch it more. The characters that Aamir has played are different from each other yet he is not at his best in the film.
Instead of all the hard work and turmoil that the actors- director – writer has put in Dhoom3 is a complete fiasco in putting up on the screen the Dhoom that was required to start 2014. It has its own loop wholes but somehow Yash Raj Films has managed to hold back the audiences to sit and watch the movie without getting too tired. The screenplay had to be more crisp though.