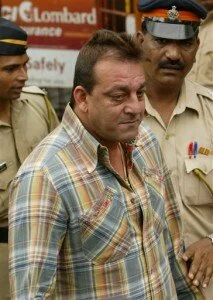 Bollywood and Glamor go hand in hand, and the statement does not need any proof. But apart from glamor, one more thing that has the privilege of companionship with Bollywood is, CRIME.
Crime and Bollywood have now become synonyms of each other. So many actors till date have got into some kind of anti-social incidents. The industry got the first JHATAKA in the form of Sanjay Dutt. The son of the most reputed duo in the filmy duniya, Nargis and Sunil Dutt. Sanjay was arrested under the TADA for owing AK-47 rifles, in 1993. He is still fighting for his innocence in the Supreme Court.
But his contact with crime has another history!! Sanjay Dutt got into drugs while still in high school. His mother's death due to cancer worsened Sanjay's drug habit. Sunil Dutt then sent him to a rehab center in Texas. After attending a rehabilitation program in the United States, a sober Dutt started working in films again.
Another famous actor who followed Sanju Baba's footsteps is Salman Khan. Became notorious with the hunting of Black Buck in Jodhpur, while shooting for Hum Saath Saath Hain. The irony is that except Salman Khan everybody else who was involved in hunting act is now out of any legal effect, but Salman is the only one who still bearing the consequences and that was not the end. After few years he was found guilty for driving his car through a footpath causing the death of 1 person and injuring 4 people. In between the two, there was the Aishwarya-Vivek episode that brought Salman in the lime light, of course for the bad reason.

Firoz Khan's son Fardeen was arrested while buying drugs in May 2001. Though he came up with apologies and said sorry to all his fans. FANS?? Anyways lets not get into that.
Last but not the least, how can we forget Shiney Ahuja?? One morning everything became not so shiny for the actor. His maid accused him of raping her. He was arrested and then released after few days. But the case is still on.
Not only males but the female actors of the industry have also became the part of this dirty game.. Mandakini, Monika Bedi are the prominent names.
There are so many other examples too..  seems that fame has its own drawbacks!!