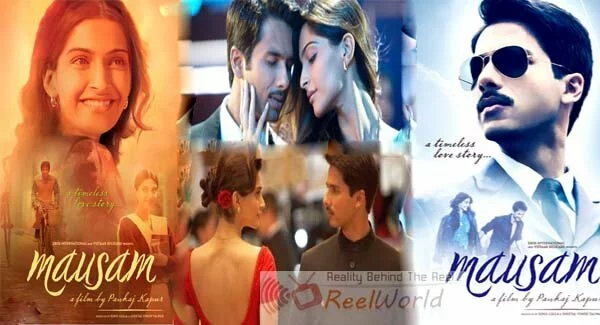 Endearing Promos, Lovely Songs, Greatly Hyped but unfortunately an unsuccessful attempt by the actor turned Director, Pankaj Kapoor. A simple love story that's what Mausam could have been. But in order to make it a Love Saga with the twists and turns of anti-social activities has made the Director and the actors to enact something very lethargic piece of art that inspite of being highly melodramatic, fails to touch the audiences' hearts.
The Promos and the music definitely raised the expectations of the Media, Classes and the Masses. But most of these people have come out of the theatre carrying a bad review of the film. Though the beginning of the movie seems promising but the slow pace of the events drags it unnecessarily for three hours. The story showcases the time period of 10 years in a young boy and girl's life. How they meet, separate, meet again, again get separated and finally end up marrying each other. As a stated earlier the love story could have been simple but the complications of the anti-social activities and an unnecessary filming of all the terroristic activities has made the plot a complex one. And it definitely does not soothe the viewers.
Shahid Kapoor has tried to give his best shot and his personal attachment with the movie and the character is visible throughout the film, because Mausam has been directed by his father. Sonam Kapoor no doubt has become a fashion Icon for the young generation. And his love for style and fashion is clearly seen in the Scotland sequence. Though the Scotland set up seems a little artificial and unnatural.
Mausam do have some great love moments between Harry (Shahid) and Ayat (Sonam), but unfortunately these scenes are unable to make the audience to stick to their chairs. The movie has turned up to be a disaster for Pankaj Kapoor. But of course the "Office Office" star deserves another opportunity as there is no doubt about him being a talented artist. Well.. I wish him All the Best for his next venture whenever he plans it.