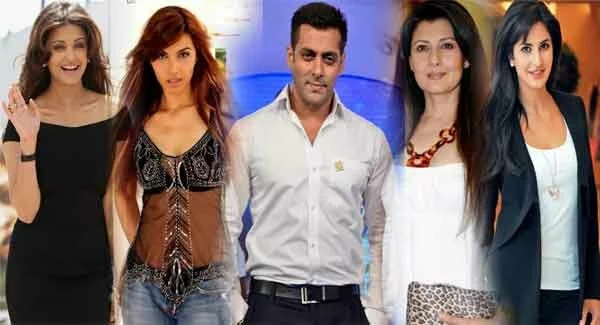 Salman Khan is the most coveted guy in India. He is handsome, he has name, fame, money and he is still a bachelor. But that doesn't mean he has everything.  Unfortunately for him, Cupid hasn't struck his heart yet. He has had quite a few intense relationships but none of them lasted. His relationship with Aishwarya Rai was the talk of the town but it ended in an abrupt way and Salman was alone again. Soon he found his love again in Katrina Kaif. It seemed that Ms. Kaif was the last fairy of this fairy tale and Salman would never be the 'single and ready to mingle kinda guy' but she too turned out to be the rebound girl.
Though Salman Khan had many 'rumored, reported and alleged' affairs, only few of them went public. Let's rewind 25 years and take a peek-a-boo in the much talked about life of his incomplete love stories.
Salman Khan and Shaheen
This was his first relationship, known to us. While he was still making a name for himself in the world of glitz and glamour he met Shaheen. He was a budding actor and she was a pretty model. Both of them were very fond of each other. An innocent relationship, they seemed to be deeply in love.  But then came the twist, they had to part ways when Salman preferred his career over his love life. It wasn't an easy decision to make but he made it. His career in Bollywood came at a price of his relationship with Shaheen.
Salman Khan and Sangeeta Bijlani
Entered Sangeeta Bijlani. Beautiful, talented and not to forget, the then Miss World. If rumours are to be believed, Sangeeta was his first true love. Both of them were very serious about their relationship. And that's not it! Salman's family loved her and always welcomed her with open hands. But fate had some other plans for the duo and they called it quits. People who always envied Salman went to the extent of blaming Salman for the break-up and tagged him as a cheater. Sangeeta however never accepted any of these rumours.
Salman Khan and Somy Ali
Now Salman was well settled and more mature. He had gained the title of boy next door and had the world at his feet. It was now that he had all the time in the world for love and then exactly at that point of time waltzed in Somy Ali a Pakistani journalist turned model. Salman was head over heels for her. This time Somy's father played the evil guy and didn't approve of her relationship with Salman. The two soon realized that it would be best for everyone if they parted ways.
Salman Khan and Aishwarya Rai
What can we say about this relationship? Salman and Aishwarya Rai painted the town red with their affair. Everyone was happy for them and most people in the film fraternity were rooting for them. Their on screen chemistry in Hum Dil De Chuke Sanam was amazing and everyone thought that Aish-Salman were end game. But once again fate played a spoil sport and their relationship ended on a sad note.
Salman Khan and Katrina Kaif
What, when and how? Nobody knew about their relationship but everybody knew about their breakup. Salman Khan and Katrina Kaif had a whirlwind romance which ended with a storm. While we were thinking Katrina was the special one who was not like any of his previous partners, Katrina proved us wrong. Just like every other time she left him heartbroken and sad.
But just as we thought Salman would never find his better half, he found love once again in Lulia Vantur! Well we can just wait and watch when does Salman decide to take this bold step in his life that is called Marriage! Everyone has set their eyes on this Big decision of Salman Khan.
Source: Ammara writes with Bollywood.celebden.com, a premire source of bollywood gossips, news and bollywood movie reviews.