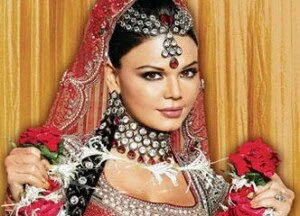 Nope! If you are guessing that Rakhie Sawant has patched up with her ex-boy friend, Abhishek Awasthi.. Then you are guessing it all wrong…
'Coz Sawant has already moved forward, leaving behind Mr. Awasthi in Jhalandar! NO baba, he has not shifted to Jhalandar, after the heart break, but it is the name of his "comedy" show on the idiot box(Jugni Chali Jhalandar)…
I understand, it must be pretty difficult for Rakhie, to come out of this break up, as there must be nobody to sleep ohhh…ho.. I meant, SLAP in front of the camera. She must be feeling lonely, I guess. Poor girl!!! But that's the way life is. One man goes another comes..
Likely humari "Miss Wanna Be", arey yani Rakhie, is all set to move ahead in life…
No, not with another boy friend, but she had planned to settle down… Yani ki kuch shaadi waadi ka chakkar hai.. That too on a National channel….
"Rakhie ka Swayamwar", that's the name of the show, through which she is going to find her soul mate, (rather flat mate, I guess)… Bhai akele mei darr lagta hoga na Rakhie didi ko!!!
As Jade Goody decided to die on T.V., Rakhie has decided to marry on T.V. (God knows if anybody would be interested in watching the show)…. But you never know! Rakhie too has her fan following!
But if Rakhi is thinking that she will get a Business Tycoon or may be a famous cricketer or may be a rich NRI, through the show, then she has to come out of her dream world…. Definitely!