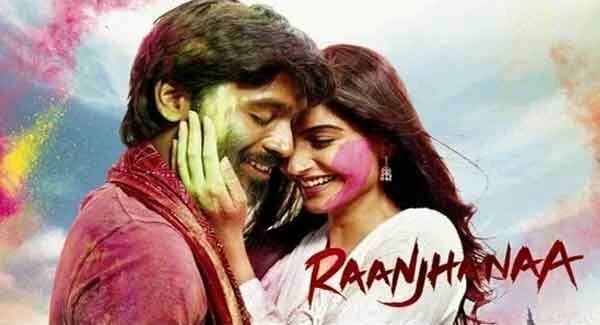 Raanjhanaa calls for a complicated plot. Romance, Love Triangle, Religion, Sacrifice, Politics, Penance and Revenge form the base of the screenplay. A pretty lengthy venture, Raanjhanaa marks some good scenes, funny one liner and cool performances. Dhanush marks his Bollywood debut with this film. The film has its pluses and minuses. The film suffers from a lengthy screenplay, had it been edited a little bit more, it would have been better.
Though the awesome performances by Zeeshan Ayyub, Swara Bhaskar, Dhanush and a respectable special appearance by Abhay Deol will not make you feel dragged. Sonam Kapoor mostly drools on one expression throughout the film.
Dhanush as a small town intense lover plays the perfect face for the character. And how he and his love make the things and lives of people and himself, end in full chaos. How Education plays an important role in the upliftment of society is another hidden aspect of the movie. The film ends on a tragic note, where nobody fetches anything out of their love and sacrifices. But Raanjhanaa gives you the strength and courage to fall in love and stand by it even at the cost of your life.
Some characters require the simplicity that Dhanush carries on his face.
Raanjhanaa is definitely an enjoyable movie and will give you the reason to laugh, cry and fall in love. Raanjhanaa is an emotional journey that's ends on a sad note and you will leave the theatre thinking about the importance or uselessness of love. Well do not come onto any decision because love is a subject that can never be concluded or summarized.
I enjoyed the film, hope you will too.