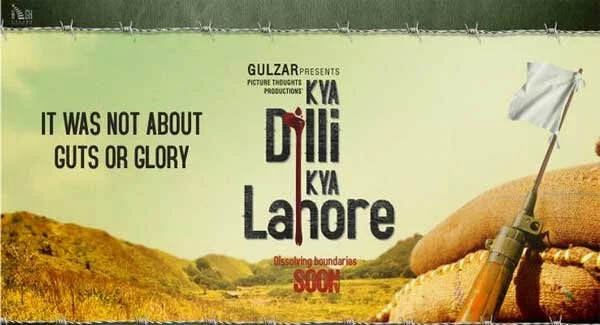 Religion has been a prominent topic of discussion in our society and in our Hindi Films. Hindus and Muslims have been specifically, circled in the screenplays of many movies. Internal riots between the two communities or the matter of India- Pakistan, a lot of films have showcased the sensitive issues.
*Kya Dilli Kya Lahore* is another stud in the milky way of this genre. Vijay Raaz debuts with the film as a director this time. The film very proudly manifests Gulzar Saab as its presenter. Though I did not get a chance to watch the movie but the promo that I saw was fairly good. Minimal characters enact an interesting storyline. Some heavy dialogues and good performances the promo seemed passionate but sadly did not evoke the feeling of *I have to watch it*.
Vijay Raaz is without any doubt a dedicated actor , Manu Rishi and Zutshi do give you a reason to stick to the promo till the end and find out what the movie is all about, "Kya Dilli Kya lahore" suggests that no religion under the sky is as big as  humanity. It is only the humanitarian sensibility that can keep the world together. And how true it is! Why do we even want ourselves to be divided on the basis of temples and mosques and churches? Life is beautiful when there is no war and hatred! Why waste it fighting over small pieces of land.
Though I strongly believe that the film will have some chilling moments. If you get a chance to watch "Kya DIlli Kya Lahore" do put in your comment and let me know your opinions about it. Meanwhile all the best to the team and to Vijay Raaz!