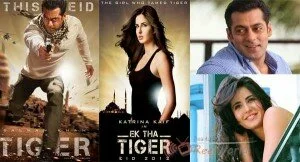 A Yash Raj venture, "Ek Tha Tiger" is not a master piece but definitely a complete entertainer for those who love to whistle in the theatres, when their super cool Hero, (someone like Salman Khan), comes on the screen with his die- heart love interest, (someone like Katrina Kaif). And when the movie is a thriller with some nice fight sequences along with a pinch of romance, the Film is bound to attract the audiences.
Ek tha Tiger, witnesses a slow beginning but catches up after a while, especially after the intermission.
Salman Khan plays a super cool RAW agent from India and Katrina Kaif plays the super hot ISI agent from Pakistan. Although Salman and Katrina share a good chemistry on screen but somehow I felt that there was a little awkwardness too, between them, throughout the movie. There was sense of reservation from Katrina's side throughout the movie. Salman on the other side could hide it behind his long experience.
Post the interval the movie keeps the audiences on their toes. Though I was expecting a tragic end to the movie but was delighted at the end when everything works in the favor of Tiger and Zoya, (a typical filmy mentality, I guess). Ranvir Shorey is also good as usual though his role did not have a long duration.
Some people's presence light up the screen with their talent, Ranvir Shorey is one of them. He comes as a small wave and takes you away with him like a strom.
Ek tha Tiger's music do not capture your ears, but the background score plays a catalyst in increasing the "Thrill" for the audiences.
"Ek Tha Tiger", is out and out on a commercial film with the X factors of Salman's macho image and Katrina's Beauty.
I thoroughly enjoyed the Film.