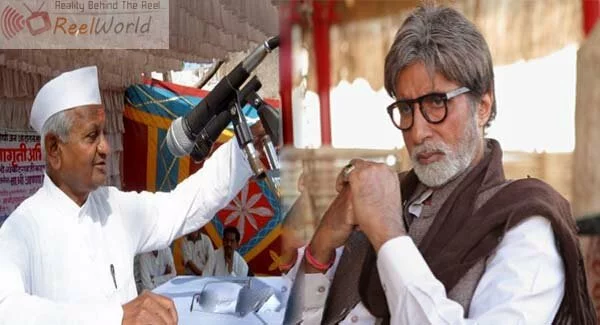 After the ban on " Aarakshan" in Uttar Pradesh was revoked, director Prakash Jha has decided to make a film on creative freedom and the efforts to muzzle the artiste through extra-constutitional means.
Prakash Jha is not the one to be bogged down by controversies.He has decided to make a film inspired from Anna Hazare's movement to remove corruption from India. And he's not exactly supporting Anna Hazare. Big B would play a Anna Hazare-style crusader in the film titled Satyagraha. The director confirms the news related stories to Subhash K Jha, "I am at the moment working on the script of Satyagraha. It is about peaceful protest, though not on a pan India level. The cast is yet to be finalised, but Bachchan saab will be in the film."
The film, however differs with Anna's ideology. Jha continues, "The upsurge of mass protest against corruption that Anna Hazare has generated is indeed unprecedented and remarkable. However, what bothers me is that only one opinion is prevailing in this movement towards eradicating corruption, and that could damage the whole noble purpose of the protest. It is the Lok Pal bill the way Anna Hazare saab wills it to be, or not at all. There has to be a less hardline approach to a matter as deep-rooted as corruption. Also, the fight against corruption should be more focused and specific in its motivation. For instance, why not start by simply campaigning against anyone giving or taking a bribe?"
Would the film focus on tackling corruption at state level rather than national level. He tells the tabloid: "Isn't that the way my films and protagonists always are? I think it's important for any movement to be rooted to a specific population. It's the only way it can be effective."
Well it will take time to launch Satyagrah of Amitab Bachchan, but as of now Anna Hazare is of fast and government is still not ready to remove corruption. Hope government soon get ready to bring the black money of politicians from international banks like Swiss Bank.