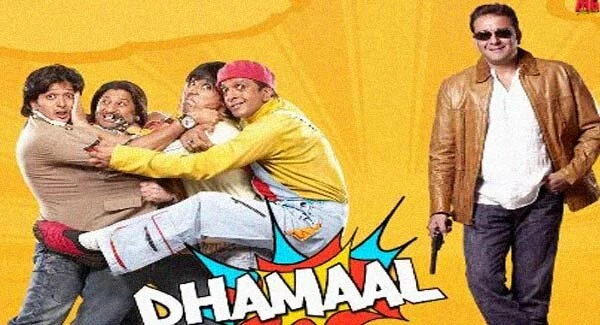 Yet another sequel of a well-liked franchise makes it to cineplexes; this one's helmed by Indra Kumar. The challenge evidently lies in making Double Dhamaal far more engaging, compelling and amusing than the first in this series. Right from DIL, his directorial debut, to Dhamaal, his last outing, Indra Kumar has integrated a generous dose of light moments in all his films, irrespective of the genre.
All said and done, Double Dhamaal is an epidemic of laughter which has all it takes to take the franchise to the next level.
The four good-for-nothing jokers from Dhamaal — Roy [Ritesh Deshmukh], Adi [Arshad Warsi], Manav [Jaaved Jaaferi] and Boman [Aashish Chaudhry] — are back again! They are still as stupid and useless as before. Hard work is a strict no and the only work they have ever done in their lives is to lie down on their backside and dream about a good life where they have everything without doing anything!
And then suddenly they spot their enemy — the corrupt Insp. Kabir Nayak [Sanjay Dutt]. But he's no longer a cop and instead of chasing crooks, he's chasing money — driving a Merc, has a posh office and a lavish villa. The four mad caps are green with envy and decide that come what may, by hook or by crook, they will share Kabir's good fortune. And so they blackmail Kabir into making them his business partners.
Double Dhamaal works primarily because it's an ingeniously written film that moves briskly from one gag to another, leaving no moment in between to contemplate. You may trace the jokes to some films of yore, but the manner in which these yarns are unified in the airtight screenplay [Tushar Hiranandani] merits an ovation.
Just as it's impossible to imagine Golmaal without Ajay, it's hard to think of Double Dhamaal without Sanju. He's not so much a part of the comedy as he is the catalyst for much of it… and he's the best man for the job. Both Mallika and Kangna have key roles to play and don't come across as mere props. Mallika is excellent and this film will make people realize that she can handle comic roles with effortlessness. Kangna is equally competent and her scenes with Riteish are sure to be noticed. Satish Kaushik is in top form. In fact, he's bound to walk away with ceetees and taalis whenever he appears… also towards the end. Zakir Hussain is adequate.
On the whole, Double Dhamaal is a seriously hilarious movie that lives up to its title — it's double dhamaal all the way. If you are not looking for wisdom and rationale in a light-hearted entertainer, I am sure you will savor this carnival of claptrap. Sometimes, a good laugh is all you need to make your day. Try not to miss this one, it pledges hilarity in abundance… Carrying a positive vibe and a high degree of expectation, the film is tipped to be 'hot' amongst viewers and is likely to embark on a strong initial at the box-office. Here's hoping that the first half of 2011 closes on a dhamaal note with Double Dhamaal.