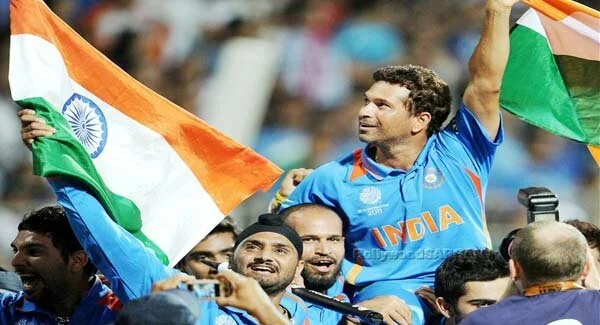 SriLanka Won the Toss and they elected to bat first…
Often we've seen ardent fans cheering for their favourite Bollywood stars. But today afternoon, some of our biggest stars will be rooting for Team India at Wankhede Stadium, Mumbai, during its final world cup battle against Sri Lanka.
Aamir Khan, who had gone to see the India-Pakistan semi-final at Mohali on Wednesday, has once again requested director Reema Kagti to cancel a day's shoot.
Apparently, the superstitious actor has not only decided to wear the same T-shirt and trousers but also the same pair of shoes and socks he wore when the India beat their arch rivals by a comfortable margin of 29 runs.
Abhishek Bachchan, who couldn't make it to Mohali, is also looking forward to catching the action live at the stadium. Though Amitabh Abhishek Bachchan has tweeted that he won't be at Wankhede to catch the final match, Abhishek says, "I'm eagerly looking forward to supporting our team at Wankhede. Pa has been following all India's matches. It will be great if he can accompany me."
Lara Dutta will catch the game at Wankhede with her group of friends. "She just can't wait for the match to start where she will root for Team India," says a friend of the actor.
Suniel Shetty, who will be at Wankhede with wife Mana and son, to catch the match with industrialist Gautam Singhania and friends in the Raymonds box, will also stick to the white T-shirt and blue jeans he had worn in Mohali. "Before the semis, I told you that India can manage with over 250 runs because Pakistan didn't look like a team that would go beyond 220," he says, adding, "If we bat first and manage at least 270, we'll win the final. Lanka won't be able to take the pressure."
"Sachin Tendulkar and team have handled Muttiah Muralitharan very well, we can easily play Ajantha Mendis too. We have a good bowling line-up and with a tight fielding, we can prevent the Lankans from outscoring us," he adds.
Minissha Lamba calls the match "an epic moment" for Indian cricket. "I wouldn't miss it for the world," she says. Dino Morea, who is recovering from a sore throat after loudly cheering for India in the semi-final, sent a text message: "It's going to be a tough match and I'm excited to be present amidst the maddening energy and excitement. I'll be losing my voice for India again, but that doesn't matter!"
Source: Hindustan Times